Chhagan Bhujbal, a cabinet member in Maharashtra, has criticized NCP founder Sharad Pawar for often changing his mind about working with the BJP despite their affiliation. He has claimed that despite this, they have not given up their "ideology."
45 of the 53 NCP MLAs, according to Bhujbal, supported Ajit Pawar, stating, "What would I have done if I had stayed outside?"
Speaking to reporters on Monday at Mahatma Phule Wada in Pune, Bhujbal claimed that in 2014, when the BJP came to power without the Shiv Sena's help following the Assembly elections, Sharad Pawar declared his support for the party.
I questioned at the moment and remarked, "We're in opposition." Five NCP leaders and five BJP leaders discussed the NCP's entry into the cabinet when I was incarcerated in 2017.
The BJP was given advice at the time to expel its ally Shiv Sena in order to create the conditions for a BJP-NCP coalition government. He asserted that "Pawar senior" had likewise changed his mind.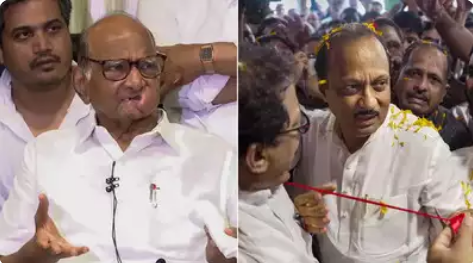 Bhujbal responded that they have not joined the BJP when questioned if he had changed his worldview from that of social reformers like Mahatma Phule to that of Hindutva movements.
On July 2, Bhujbal and eight other NCP MLAs, including Ajit Pawar, who had left the 24-year-old party, were sworn in as cabinet ministers in the Eknath Shinde administration. The position of deputy chief minister was given to Ajit Pawar. Bhujbal claims that the choice to join the BJP was made in 2019.
According to the well-known OBC leader, a conference was convened in New Delhi where it was decided that the NCP would form a government with the national saffron party and the BJP would abandon its coalition partner Shiv Sena.