The Bharatiya Janata Party (BJP) has recently made a sequence of state president appointments that replicate its attention on social representation. The appointments come as the BJP goals to bolster its presence in diverse areas beforehand for upcoming elections.
In Uttar Pradesh, the USA's maximum populous country, Swatantra Dev Singh, a frontrunner from the Rajput network, has been appointed as the new state president. This pass is seen as a try via the BJP to consolidate its help among the influential Rajput network, recognized for its warrior lineage and political clout. Singh's appointment is assumed to provide a miles-wished raise to the birthday celebration's potentialities in the approaching kingdom elections.
Similarly, in Rajasthan, Madan Lal Saini, a distinguished leader from the Jat community, has been named the national president. The Jats constitute an extensive vote bank inside the area, and the BJP's selection to hire Saini is indicative of its efforts to attain out to this essential social group. The flow is visible as a strategic maneuver to counter the opposition's strong effect on most of the Jat network.
In Maharashtra, any other key kingdom, the BJP has appointed Chandrakant Patil as the country president. Patil hails from the Maratha community, which holds vast political clout within the place. The BJP's decision to appoint a leader from the Maratha community is seen as a calculated move to increase the birthday celebration's appeal and support its alliance with various caste businesses. The birthday party hopes that this flow will stable its position in Maharashtra as it heads closer to critical country elections.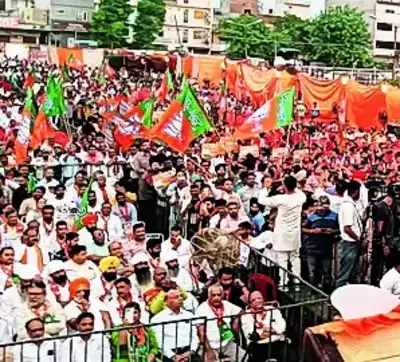 These appointments represent the BJP's recognition of social representation and its efforts to create various management shapes. By appointing leaders from influential social companies, the party targets attraction to a broader range of citizens and consolidates its guide base in distinct regions. It is a strategic circulate to counter the opposition's stronghold among specific communities, thereby increasing the BJP's electoral prospects.
However, these appointments have additionally attracted grievance, with warring parties arguing that they represent the BJP's divisive politics of social engineering. Critics argue that such movements in addition deepen societal divisions and enhance identity politics instead of focusing on developmental issues and inclusive governance.
Nevertheless, the BJP's new national president appointments reflect its astute expertise in the importance of social illustration in Indian politics. As the party gears up for upcoming national elections, it's far clear that the BJP is determined to field leaders who can efficaciously connect to numerous social businesses and impress aid for his or her celebration. Only time will tell if those appointments will translate into electoral fulfillment for the BJP.