Recently Nora Fatehi was seen in two starkly different styles, and she looked beautiful in both. In this article, we talk about the two completely different styles and how it shows the diversity in her style which was appreciated highly.
Nora Fatehi is known for her acting and dance. But, that is not the only factor attractive to her fans. She is very well known for her fashion style. It is seen over time that she has a very diverse fashion and can pull off any look. She became well-known in the industry and gained a lot of fans because of this.
Recently, she has yet again shown how she can look stunning irrespective of the outfit style. She wore two different styles for two different events. She wore a glamorous outfit for the red carpet of an award show and also was seen wearing workout attire in a professional shoot. She looks charismatic in both and makes her an inspiration for many.
Following we will discuss the two diverse outfits:
She showed in two diverse looks and proved again that she has a truly diversified style and she can look stunning in both.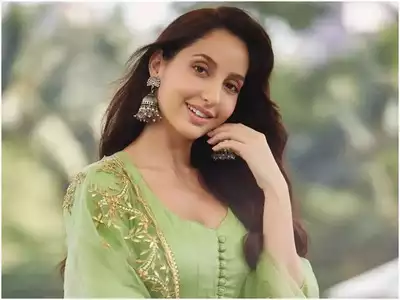 The athletic attire:
Recently Nora did a photo shoot where she can be seen in 2 athletic outfits. We will discuss both below:
The Light blue outfit:
She wore a co-ord set of light blue sports bra and gym tights. Both of these pieces were bodycon.
The sports bra had a plunged neckline with broad straps with cut-outs at the back. It was cropped in length. The waistline of the tights was high rise, with a high ankle cutout.
She accessorized the whole look with white chunky lace sneakers and a stopwatch. They styled the whole outfit with a messy ponytail and earbuds.
The all-black outfit:
Here she wore all-black bodycon sporty attire.
She wore one shoulder strap sports bra of cropped length. The sports bra had a one-sided double strapped plunged neckline. The jacket was a full sleeve-cropped jacket with a zipper in front. She wore a high-rise waist biker shot.
She accessorized the look with black matching sneakers. She styled the look with wavy hair and earring.
The glamorous red carpet attire:
Recently she attended the Filmfare award. On the red carpet, she was seen in a stunning dress from the label designer Yousef Aljasmi.
She wore a full-length body-hugging dress. It had a halterneck style with diamantes embellishment all over the dress in an abstract pattern.
She styles the look with mid-parted open hair, smoky makeup look, and contoured cheeks.
She accessorized with statement earrings and rings.
Nora Fatehi, apart from being an actor and a dancer is well known in the fashion world for her diverse styles. She can make heads turn in whatever attire she beholds. Her styling has gained many fans that look at her as inspiration. Recently she was seen in two completely different looks (discussed above), and she was mesmerizing in both.