Nail art is trending at its peak among the Bollywood celebrities. Read the article, we have mentioned a few celebs and their amazing nail art choices. Bollywood celebrities are not limited to showcasing their talent in fashion and styling, they have been equally amazing with their nail art choices.
The nail art game is rising well among the celebrities of Bollywood. Chic and creative designs created various nail art techniques such as metallic color and style to the ombre effect.
Following are some trends and designs opted for by Bollywood celebrities:
Ombre never fails:
If you want a simple look and do not want to go all out, a classic ombre is your go-to option. It helps you when you do not want bold colours or designs and go simple yet stylish.
Recently, Mouni Roy styled simple light pink color in an ombre to achieve a simple yet stunning look.
Metallic nails are the new normal: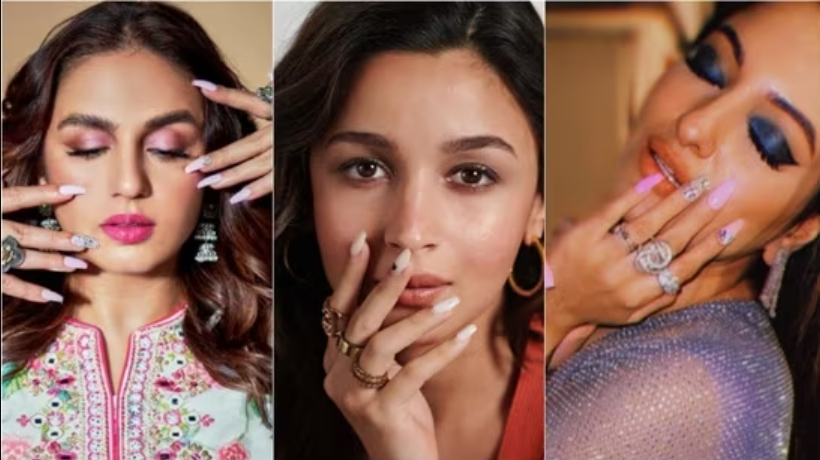 image source:https://www.hindustantimes.com/ht-img/img/2023/05/05/550×309/photo_2023-05-05_13-43-14_1683274496827_1683274560015.jpg
Metallic nail colours have been trending. It is a safe and versatile option when you don't know what nail art to opt for. Put on some basic metallic nail color and pair it with a few accessories on hand, and you have an effortless look ready to go.
Shehnaaz Gill recently was seen with a glamorous and stylish appearance. She opted to paint her nail to perfection with dark-coloured metallic nail paint. She added golden accessories to compliment the look.
Sara Ali Khan is known for her chic sense of fashion. The actor does not disappoint in nail art as well. She was seen in a simple yet stylish look with silver metallic nail paint styled with a statement ring.
The rise of chrome nails:
Chrome nails style is trending tremendously in the nail art world. Diana Penty recently looked stunning in her chrome nail paint look.
To achieve the look, paint your nail base with white or silver color. Now, add chrome powder or polish above the base to have that mirror-like effect. To lock the look in place, use a top coat above all the layers.
Minimal is magical:
The simple designs with minimal design can look stylish and impeccable. If you struggle with choice or are just in the mood for something simple, choose these minimal designs.
Alia Bhatt looked undeniably charming recently, and her minimal nail art might have melted hearts. She painted her nails with off-white glazed nail paint and finished off with a tiny black heart drawn over the nail paint of the middle figure.
Sonakshi Sinha was seen in a simple yet classy and chic look. She went with simple white nail paint and added golden lines over them to finish off the look. She accessorized with statement unique rings to glam up the look.
Glitter it up:
It's a rising trend to add glitter to nails.
Huma Qureshi recently looks stylish and elegant with her simple look. She painted the nail with pastel color and added glitter and some crystals to the middle figure.