The strong effect of Covid-19 has once again shown an uprising graph across different cities in India. On Thursday, Delhi reported a hundred and seventeen fresh cases of Covid-19. In the last five months, this is for the first time that the number of freshly infected cases has gone beyond the hundred mark. But the good news is that no deaths have been recorded as it.
It was last in October 2022 that more than a hundred cases of patients having Covid-19 were reported. Hundred and sixteen people tested positive at that time. Currently, the tally of active Covid-19 cases in Delhi is three hundred and forty-six. Out of them, seventeen patients have been hospitalized and two hundred and twelve of them are under home isolation.
The cases that came up on Thursday were after having tested two thousand three hundred and sixty-two people. Currently, the rate of positivity in Delhi is at 4.95%. According to the data reports, the number of positive cases between March 16th to 22nd has been at hundred and seventeen patients. Only one death was reported on March 21st.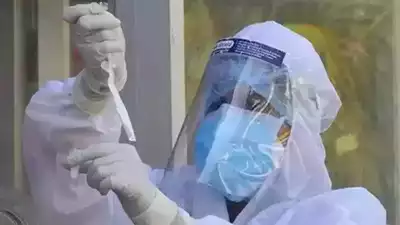 Till the 9th of March, the daily cases of positive patients have mostly been in the single digit. But from March 10th onwards, there was a slight jump in the figures. Since the last one week, there has been a steady rise in the number of positive cases. On Wednesday, eighty-four fresh cases were reported in Delhi. The rate of positive cases has been more than five percent. On Tuesday, eighty-three fresh cases were noted in the city. It took the positivity rate to almost six percent with a single death having been registered.
Alongside Covid-19, there have been viral and flu in the city too. The doctors have confirmed that there was very less reason for being alarmed. But they have also stressed wearing the mask back again when traveling on the road.
Keeping in view about the steady increase in the number of cases, the Prime Minister has stressed upon genome sequencing for all the positive samples. The doctors too have told the medical authorities to remain alert about the new variant. It has the potential for a quick outspread. Even though there is no reason for getting panicked, but, it is important to stay alert not only about Covid but also about H3N2.
Dr. S Budhiraja has said that each of the Covid positive samples must undergo genome sequencing. It shall help us to identify which variant has a higher active rate. Till now, the Omicron variant has been on the high rise in India. Omicron has a higher transmission rate and generally, it causes mild infections and symptoms like the flu. The people who are more prone to this variant are the elderly. According to multiple other medical practitioners, wearing the mask at this stage has become very essential again as the new variants are very quick to spread infections.