These days, it is not only Covid-19 but the weather too is causing havoc across different parts of India too. Over the past few weeks in March, there has been news about earthquakes, rising temperatures, and rains as well. Currently, the capital city of India is experiencing a rise in mercury levels. In Delhi, there has been a rise in its daytime temperature by two degrees on Tuesday. The weather department is of the view that there will be a further increase in its maximum levels too.
A report by the IMD states that the maximum temperatures across the capital city will go high by three degrees in the next couple of days. But there is news of respite from it too as the report also states that from Thursday night there might be rain. The Safdarjung weather station recorded a little over thirty-one degrees Celsius on Tuesday which seems normal for the season. On Monday it recorded a much higher temperature of above twenty-nine degrees Celsius. Whereas the minimum temperature on Tuesday had been a little over fifteen degrees Celsius which happens to be below normal. On Monday the minimum temperature had been a little more than sixteen degrees Celsius.
The weather report by IMD further stated that today, the maximum and minimum temperature levels are going to remain around thirty-three and sixteen degrees Celsius. Even though there is a rise in the maximum temperature on Wednesday, it will decline too from Thursday onwards because of the western disturbances. On Thursday night there are chances of a drizzle across the city. The intensity is going to rise on Friday.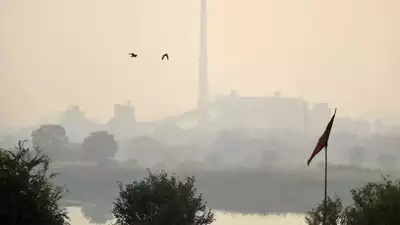 Currently, the AQI of Delhi is at moderate levels reading a hundred and forty-seven. The pollution monitoring agencies have reported that for the next few days, the overall quality of air is expected to remain in the moderate category due to moderate surface winds.
Right now along with the weather, Delhi is facing another major concern. The water supply for drinking water has got affected across several parts. Currently, the levels of ammonia have reached their peak across the Yamuna. The Delhi Jail Board has issued an alert to the people about the low pressure on the water supply across many areas from Tuesday evening. Because of high pollutant levels, the ammonia levels have gone above 5ppm across the Yamuna.
Since last year there have been concerns about the ammonia levels across the Yamuna. This river has been the primary source of drinking water flowing from Haryana. The officials have stated that the Delhi plants have limited water treatment facilities that cannot exceed over 1ppm. Right now both the plants of Chandrawl and Wazirabad are been working between forty to fifty percent capacity. An alert has been rolled out that from the evening of Tuesday till the situation improves, there shall be low pressure in the water supply. The residents have been requested to make wise use of water.