The largest producer of contract electronics in the world, Foxconn, has revealed that it has acquired a sizable parcel of land outside Bengaluru, India. Due to stringent COVID laws and current diplomatic problems with the United States, both Foxconn and its principal client, Apple, are seeking to diversify their production away from China with this move.
The 1.2 million square meter property in Devanahalli, close to the airport in Bengaluru, was purchased for $37 million by Foxconn's affiliate, Foxconn Hon Hai Technology India Mega Development. The corporation additionally disclosed that a different unit had purchased land-use rights to a 480,000-square-meter plot in the Vietnamese province of Nghe An.
The decision was made in response to March reports claiming that Apple would soon begin producing iPhones in a new facility in Karnataka and that Foxconn intended to invest $700 million in a new factory in the same state, according to Bloomberg News.
The state was visited by Foxconn Chairman Young Liu in March to "deepen partnerships… and seek cooperation in new areas such as semiconductor development and electric vehicles." Liu also had a meeting with Indian Prime Minister Narendra Modi on his tour to talk about developing India's tech and innovation ecosystem.
India, the second-most populated nation in the world and the country with the second-highest percentage of smartphone users after China has seen increased efforts from Apple. The business expanded its production presence in the nation last month and built its first two retail locations there.
Apple revealed in September 2020 that it would produce the iPhone 14, its newest model, in India, just a few weeks after the flagship device's release. The nation produced 7% of Apple's iPhones last year, trailing the United States, China, Japan, and other nations in manufacturing.
The "Make in India" initiative of Prime Minister Modi, which encourages international companies to produce items in the nation, is also helped by Apple's expansion in India. In India, Foxconn, Wistron, and Pegatron, three Taiwanese vendors, produce and assemble Apple products.
The purchase of land in Vietnam and India is a part of Foxconn's larger strategy to diversify away from China in terms of production. The business declared in January that it would collaborate with Geely, a worldwide automaker, to offer contract manufacturing services to them. The alliance would concentrate on giving automakers, including EV startups, consulting, development, and manufacturing services.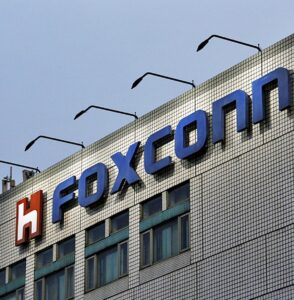 Additionally, Foxconn and Chinese EV startup Byton have teamed together to develop the M-Byte electric SUV, which will be sold in China later this year. According to reports, the business is also in discussions with Chinese EV startup Fisker to produce its forthcoming electric vehicle. Foxconn announced the MIH Open Platform, its first EV platform, in March, to license it to additional manufacturers.
In terms of the company's aspirations to diversify its production outside of China, Foxconn's acquisition of land in Vietnam and India is a big move. Due to rising production costs, geopolitical unrest, and the ongoing COVID pandemic, tech businesses are increasingly attempting to minimize their dependency on China. This move is representative of this trend.
Foxconn's efforts to diversify its business as the largest contract electronics manufacturer in the world and a key Apple device assembler might have a big impact on the global IT sector.