On April 30, 2023, Satwiksairaj Rankireddy and Chirag Shetty became the first Indian men's doubles team to win a gold medal at the Badminton Asia Championships, making history. As the nation's second gold medal at the Badminton Asia Championships, India's triumph is a significant achievement. Dinesh Khanna earned the inaugural gold medal in the men's singles division in 1965.
The Malaysian team of Ong Yew Sin and Teo Ee Yi presented a formidable challenge to the World No. 6 Indian pair in the championship match. After losing the first game, they rallied to win the following two. They fell behind 7-13 in the second game but managed to rally and win 21-17. After a thrilling three-game match that lasted for more than an hour, they maintained their composure to win the final game 21-19 and clinch the gold medal.
In Indian badminton, Satwiksairaj Rankireddy and Chirag Shetty have achieved historical feats before. In just one year, they have outperformed every other men's doubles team in India in terms of trophies and significant medals. They participated on the legendary Thomas Cup-winning team in 2022 and took home the gold medal from the Commonwealth Games.
The Badminton Association of India has announced a prize fund of Rs 20 lakh for the gold medalists in honor of their historic accomplishment. This honor goes to Satwik and Chirag for their outstanding performance during the previous year.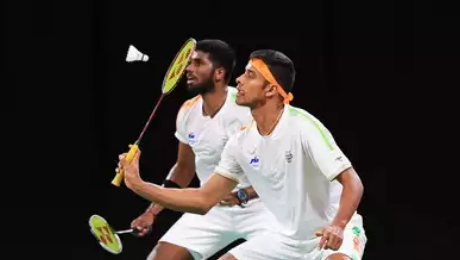 The triumph came just before the 2024 Paris Olympics qualification process began at the Badminton Asia Championships. It will be their second Olympic Games if they qualify. The World No. 6 duo, who are 22 and 25, are only at the beginning of their career and have the potential to become India's best badminton players.
Here are some of the many firsts Satwiksairaj Rankireddy and Chirag Shetty have accomplished, as well as what lies ahead for them:
Games for the Commonwealth: In 2018, at the Gold Coast Games, they won silver, India's first-ever medal in men's doubles badminton. Chirag was only 20 years old, while Satwik was 17 years old.
Thailand Open: In 2019, they made history by being the first men's doubles team from India to win a Super Series championship there. They also advanced to the French Open Super 750 final, losing to the "Minions" despite having defeated higher-ranked couples.
Heartbreak in Tokyo: Despite winning two of their three matches and defeating the eventual champions on a technicality of a three-way tie, the only Indian men's doubles combination to qualify for the Tokyo Olympics was eliminated in the group rounds. It came in a year when they had no other awards to show for their impressive performances, which was a cruel turn of events.
India Open: They made history by being the first Indian pair to win the India Open in January 2022. They achieved this by defeating Indonesian duo Mohammad Ahsan and Hendra Setiawan, who are three-time world champions and their heroes. Their historic season began when they defeated a seasoned duo at home to win a championship.
Finally, Satwiksairaj Rankireddy and Chirag Shetty's triumph at the Badminton Asia Championships represents a crucial turning point for Indian badminton. They have exceptional form, and their many accomplishments indicate that they have the potential to become the best badminton player in India.