As Rhythm Sangwan grew up, she was always fascinated by her police officer father's service revolver. His father, Narender Sangwan, a DSP in Haryana Police, allowed his daughter to also where an empty holster.
Recently, Rhythm, aged 19, made her father proud by winning a bronze medal in the women's 10m air pistol final at the ISSF world cup happening in Baku, Azerbaijan. The youngster from Haryana scored 219.1 to finish behind Anna Korakaki from Greece, who also won a gold medal and all, and Olena Kostevych of Ukraine, a four-time Olympic medalist.
The father of Rhythm Narender stated that her daughter would always ask for his pistol and would roam around the house wearing his empty pistol holder. According to him, she was always fascinated by his pistol, and he also took her to her first shooting range, and it was a wish come true for her daughter.
He also stated that her daughter winning the bronze medal was very special for us, and we will always keep that medal in a pride place in a cabinet where all of his service medals are kept. It was the year 2016 when Rhythm when two his first shooting range Doctor Karni Singh shot range in New Delhi with his father Narender from their home in Faridabad.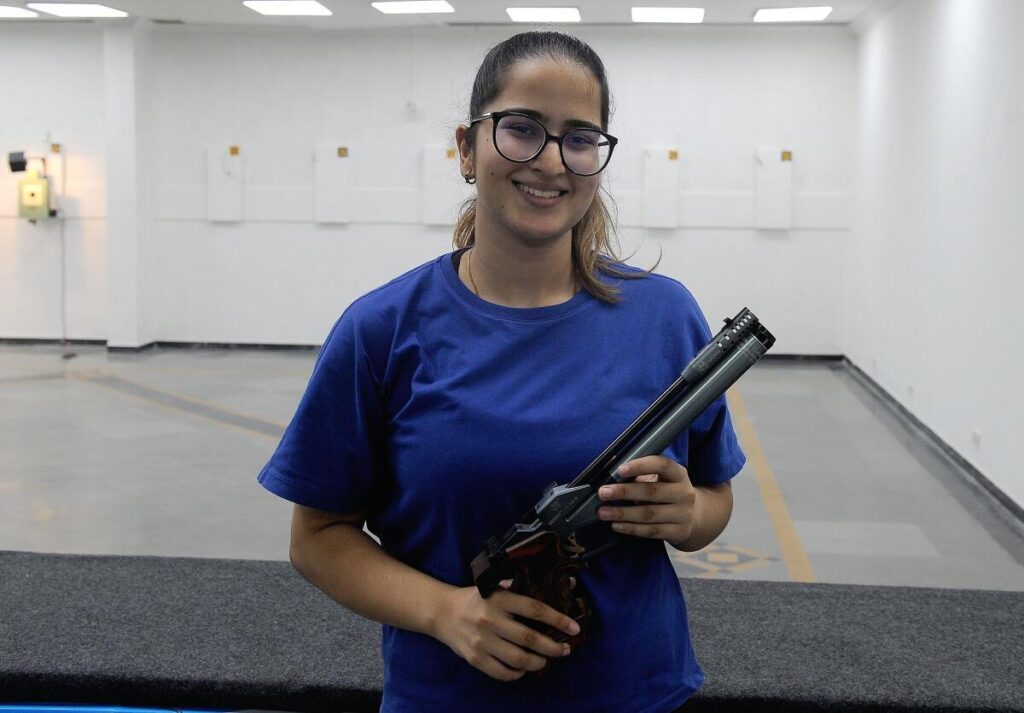 At the range, Rhythm was trained by Vineet Kumar, a national-level Shooter and a colleague of his father, Narender. Her father also stated that he always knew that once his daughter started training, she would train passionately.
For times I was away on my duty, my wife Neelam would take her daughter to the shooting range, and later on, we also made a basic range at home; when I used to return from my duty, I would often find my daughter practising at the range we made for her at home.
It was the decision of Rhythms coach Vineet Kumar to make Rhythm a pistol Shooter. Coach Vineet Kumar states that on the first day of training, she did not hesitate for even a second when he made Rhythm to her shadow practice. He said kids at that age usually only want to shoot immediately with the pistol.
This made the coach believe that this girl has a lot of patience; according to him, she has maintained that patience throughout her career. Whether regarding wrist position, arm posture, pistol grip, or elbow position, she has always followed all the instructions respectfully.
According to the coach, Rhythm used to shoot ten shoots in her 2-hour practice sessions and 150 shorts with ease, and it helped Rhythm in both 10m as well as 25m, especially in the rapid-fire stage.
Last year the player was close to winning the Paris Olympics quota for the country in the 25 m pistol event at the ISSF world championship in Cairo. The youngster from Haryana was able to qualify for the eight-shooter relay match final, which consists of 2 relays of 4 shooters each, and was leading in the first-ranking relay match with 11 hits after his third series.