A working paper by the International Monetary Fund (IMF) claims that India lacks broad data protection regulations, endangering the residents' digital rights and privacy. Even though the Indian Supreme Court said in 2017 that the right to Be private is essential., the government has not yet put a strong data protection policy in place. 
Since then, other draughts of pertinent legislation have been created; the most recent ones are the draughts of Protection of Digital Personal Data Act and the draught of the Digital India Bill. 
The IMF report, "Stacking up the Benefits: Lessons from India's Digital Journey," highlights the significance of a strong data protection system to safeguard individuals' privacy, limit indiscriminate data collecting, and hold businesses liable for data breaches, as well as governments.
The article also mentions that in 2021, data breaches impacted over 80 million Indian consumers, including those of Air India, Domino's, Facebook, Both Upstox, and Mobikwik. These attacks created phone numbers, user names, bank account information, passport data, and Aadhaar data vulnerable. 
According to IBM's projections, the typical price of a data breach in India in 2021 will be USD 2.2 million as opposed to the global average of USD 4.24 million per event. The study emphasizes how users' trust is damaged and their ability to switch to digital channels is hampered by their experience with fraud.
The IMF research commends India's digital public infrastructure (DPI) despite these flaws, describing it as a lesson for other nations that are starting their digital transition. DPI consists of open, interoperable standards or specifications that power shared digital building pieces including platforms, systems, and applications. 
India's founding DPI, known as To encourage innovation and Competition, India Stack has been essential, in growing markets, closing financial inclusion gaps, and enhancing the effectiveness of governmental expenditure.
Three layers make up the India Stack: Aadhaar, which serves as a unique identity, complementary payment systems (such as the DigiLocker and Account Aggregator, which enable data sharing, as well as the Unified Payments Interface, Aadhaar Payments Bridge, and Aadhaar Enabled Payment Service.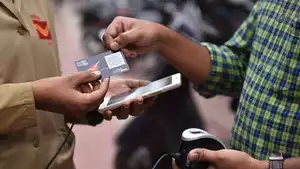 These layers offer access to a variety of public and private services online that are online, cashless, paperless, and privacy-respecting. According to IMF research, this investment has been advantageous for the whole nation and has been especially useful during the pandemic. 
Estimates from the Indian government show that up until March 2021, expenditures related to electronic governance and infrastructure improvements were reduced by around 1.1% of GDP.
The study also emphasizes how vital it was for the government to create institutions to maintain India Stack's operations. The poor level of digital literacy in India, according to the research, is a key obstacle to using DPI-based solutions.
According to the IMF paper's conclusion, while some aspects of India's path may be challenging to emulate elsewhere, success is still possible with the right institutions, leadership, and policy framework. 
To enable the secure and efficient adoption of digital solutions, the report advises policymakers to give priority to creating a strong data protection framework and making investments in digital literacy. It is important to note that the opinions presented in the paper are the authors' and may not accurately reflect those of the IMF.