Devon Conway frequently goes unrecognized at the Chennai Super Kings despite being a member of a team that features numerous famous T20 foreign players. The Super Kings, who had missed out on Faf du Plessis, were able to capture his services during the 2022 player auctions. Conway had already established himself for New Zealand in Test cricket and was steadily demonstrating his value in ODIs as well.
Conway has a subtle but effective batting style. He only participated in seven games the season before, but his ability to play spinners was impressive. Due to Ben Stokes' absence this season, Conway not only gained a berth on the team but also took the batting lead for the Super Kings.
He has a strike percentage of 144.25 and has scored 414 runs in 10 games, giving the club a strong start during the powerplay.
Surprisingly, despite his stellar performances this season, Conway informs head coach Stephen Fleming before every game that he is out of form. The majority of teams in the T20 format favor flamboyant openers, particularly when a player like Ruturaj Gaikwad, who lacks firepower, is involved. Except for a few seasons when Brendon McCullum and Dwayne Smith opened the innings, Chennai has favored a reliable opening tandem. 
Conway must learn to adapt to Chennai's home field of Chepauk's spin-friendly conditions in the present environment when teams prioritize strike rate and aggression. However, he has performed admirably in four games, amassing 266 runs off 176 deliveries, including three half-centuries.
Conway has an unlimited number of shooting options, and he is constantly increasing them. Even though he lacks a traditional scoop, he has developed ways to execute the shot by slanting to his right to widen the opening. He uses his exceptional hand-eye coordination to hit the ball in peculiar places when playing against spinners. For instance, a spinner will rock back and draw the ball straighter or squarer when he bowls short.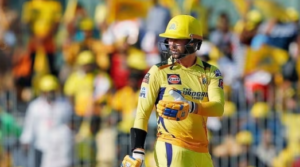 Conway's unusual batting stance creates pockets that bowlers and fielding units typically do not anticipate. To succeed on subcontinental surfaces, he has developed a strong front-foot play and a compact defense that serves as his safety net.
Conway moved to Wellington to continue his cricket career after growing up playing cricket in South Africa. He spent most of his domestic matches in New Zealand at the Basin Reserve, a ground renowned for its bounce. He has honed his front-foot ability while playing on bumpy pitches, which is a credit to his diligence.
Conway's batting may not be the most visually appealing, but his follow-through is plenty of motion, especially when playing strokes on the leg side. He frequently ends up with his left knee dangling in the air and his bat positioned over his head.
This suggests that he is more dependent on time than on strength. "His timing adds a different dimension to his game and perhaps explains why he is effective against spinners in sub-continental conditions," Sriram Krishnamurthy continues. He uses timing instead of brute force or trying to hit them out of the park.