Ajinkya Rahane, an outstanding batsman for India especially in the longest form of cricket, made his comeback to the national side earlier this week when he was selected for the World Test Championship final.
Rahane joined the team to take the place of Shreyas Iyer, who underwent back surgery and was unable to participate; as a result, it is likely that Rahane will also be in the starting lineup. The team has also rejected Suryakumar Yadav, who had initially replaced Iyer during the Border-Gavaskar Trophy.
When he was reassigned to the India Test team, Rahane shared his playing career obstacles and reflected on his cricketing journey on his official LinkedIn profile that came into light in the past few months.
"Throughout my professional cricket career, I've come to understand that things aren't always easy sailing. There are times when things don't go as expected, and it can be easy to become consumed by the outcome. But I've come to realize how important it is to remain with the procedure and not let the result divert our attention", Rahane stated on his profile.
"When I think back on my professional career, I realize that the instances when I stuck with the task at hand despite a disappointing result were the ones that taught me the most.
These are the experiences that allowed me to advance both as a person and a cricket player. I came to the realization that those times when I let the outcome determine my strategy weren't my best moments."
The batter then spoke on coping with pressure in specific circumstances and crowd expectations.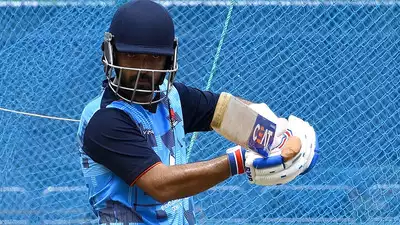 "Stick to the process is crucial in any endeavor that requires perfection, not just in cricket. It enables us to accept responsibility for our actions and keep our attention on the things we can control.
By keeping our attention on the process rather than the result, we are able to avoid becoming discouraged by it and to remain driven to achieve our objectives." Veteran continued.
"As someone who has spent a number of years in the spotlight, I am aware that the expectations may be debilitating. I've learned, though, to keep my cool under pressure and concentrate on the things I can manage. I would offer the same advice to anyone trying to advance in their career."
"Let's all concentrate on the process and have faith in our talents. The outcomes will come, but in the meantime, let's keep working hard and striving for perfection", added Rahane.
The seasoned Indian player is presently playing for the Chennai Super Kings, where many people have been startled by his tremendous hitting. Rahane, who is typically thought of as a conservative batter, has scored 209 runs for the CSK in five games with an astounding strike rate of 199.05. Rahane not only had a fantastic IPL season, but he also scored 634 runs at an average of 57 in 7 games for the Ranji Trophy last season1.